Culture and Events
The mission of the Danish Association Center is to preserve and share with others our Danish culture, traditions, and values. We do that by having educational programs, camps and classes.
Check out the following public and member events and classes. Sign up to become a member and experience all the Danish American Center has to offer!
Current member events:
Danebo Reading Circle   
Interested in reading Nordic literature in translation?  This is a delightful way to learn more about our heritage. The reading list is created by members and consists of modern and classical books. Some authors we have read over the past 20 years include Peter Hoeg, Tove Ditlevsen, Isak Dinesen (Karen Blixen), HC Andersen, William Heinesen, and Hans Kirk.  Watch the DANews for details about upcoming gatherings.    This group usually meets on the 3rd Sunday afternoon from September to November and from January through May.  
Hygge Aften   (evening with friends)
It's simply a gathering for the sake of gathering!  Come join us five times a year at the DAC for a cozy Friday evening with friends. Reservations are requested along with a small fee to cover the cost of the meal. Speaking Danish is not required.  A different member prepares the soup each time and all are encouraged to bring their favorite board games.  This is always a fun and relaxing evening and a great chance to get to know fellow members.  
Onsdag Frokost  (Wednesday lunch) 
Twice a month, DAC volunteers prepare a tasty lunch for members and their guests.  Attendees begin with a social time and move into being served at the attractively decorated tables. The hour is interspersed with commentary, announcements and singing in English and Danish.  Cost is $10 for members and $13 for their guests. Reservations are required by the Friday before the scheduled luncheon.  
Dancing
The dancing groups usually meet frequently.  No need to know Danish or Nordic dancing steps as the group is happy to teach newcomers of all ages.  Watch the calendar in the DANews for up to date information.  Most often the dancing takes place in the DAC atrium. 
Virkelyst
Founded in 1938 Virkelyst, from the Danish words virke (work) and lyst (willingness) is a continuously evolving social organization whose aim is to further the goals first set out in 1938 in new, contemporary and fun ways.  Our intergenerational women's club of willing workers support the Danish American Center and charities that primarily support women and children. Monthly Programs include a wide variety of topics featured, such as guest or members speaking on anything from travels to Antarctica, service dogs, various charity organizations, or wine tasting! We meet every month other than July and August, with our December Christmas dinner well known to be a highlight for members and their guests. Meetings have often included Virkelyst members offering their ideas and eagerly putting together items for charity. The focus is particularly on the needs of women and children. Our meetings also include social time, concluding with coffee and dessert being served. New members are always welcome!
Mah-jongg 
Learn this fascinating Chinese tile game from member and seasoned mah-jongg player, Anne-Lise Paulsen.  This group meets every Wednesday (except December) from 10-6pm and beginners are welcome.  Games sets are provided, including larger printed tiles for the visually impaired.  Bring a lunch and every other Wednesday is the option to purchase a plate for $10 at the DAC Wednesday lunches.  
Tøseaften (Girls Night Out)
Tøseaften – Danish speaking women meeting monthly for an evening of hygge (Girls Night Out), friendship, and interesting discussions. If you understand Danish well, but speak it hesitantly, we would still love to see you. Bring a drink for yourself and a shareable snack. We meet the first Friday of the month at 7:30 pm at the Danish American Center. Occasionally, we have additional events, one being a traditional lækker julefrokost. Special events such as parties include spouses/partners (also, English speaking). If you would like more information or wish to be on the invite list, please contact Annette Dunford at tulipsmile@icloud.com or Anette Petersen at anettespetersen@yahoo.com. We would love to have you join us!
Fyraften  (Guy's night)   
Enjoy a time of good food and fellowship for the men of the DAC, ages 18+.    They take turns preparing meals and doing the cleanup.  All contribute to the cost of the meal.  While some will speak in Danish, that is not a requirement. The group meets on the last Friday of every month from September-May.  
Annual Events for Members:
Aquavit and Food Pairing Luncheon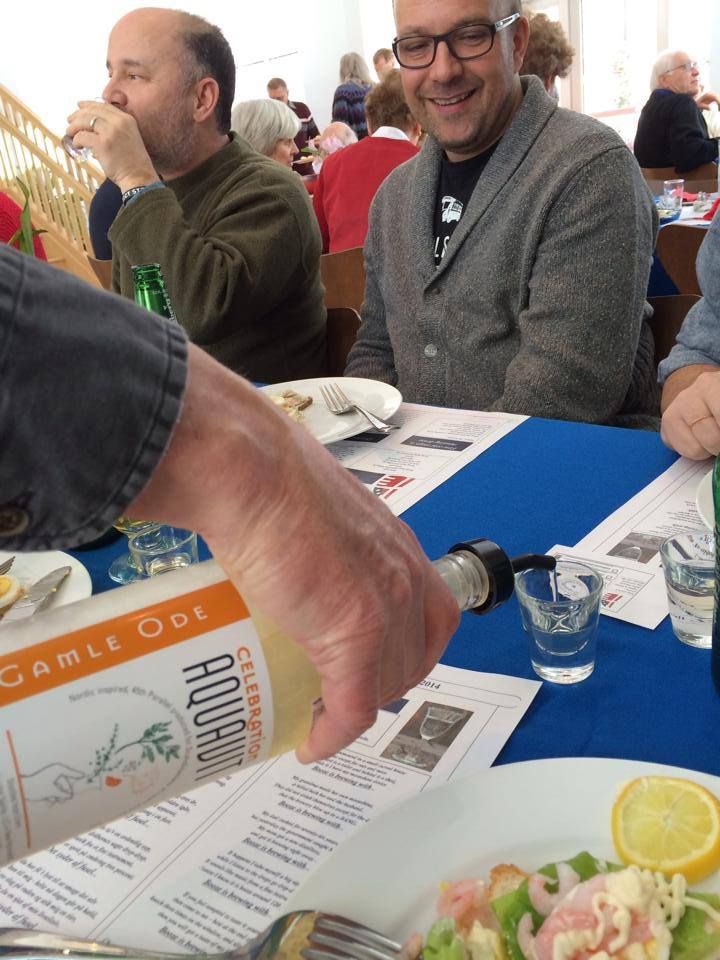 Winter can feel like an eternity in Minnesota.  What better way to get through it than to gather with friends for a unique dining experience along with the warming affects of Danish aquavit?  The Aquavit & Food Pairing Luncheon is entering its 10th year of creating culinary adventures for DAC members and their guests.  Aquavit infused ice cream, gin & juniper herring and beet-cured gravlax are just a few examples of the tasty dishes served at this 5-course event.  It starts with a social gathering and specialty cocktails.  Once seated, you'll sing songs between courses and learn about the different brands of aquavit from local distributors.  There is also a raffle.  This event fills up quickly, as space is limited.   It is usually held in late February or early March.  
Sankt Hans Aften
For 25 years, members Kurt Hansen and Patricia Walter have hosted Sankt Hans Fest (Summer Solstice) at their farm in Rosemount, Minnesota. Grab some lawn chairs, meat to grill and a dish to share.  The Walter-Hansen's will provide the grills and their beautiful farm with plenty of room to gather.  Take in the scenery with a hayride through the woods and gather around the bonfire after dinner. And if it rains, everyone moves to the shelter of the barn for singing and dancing.  It's a great way to kick off summer. DAC members and guest
Annual Membership meeting 
Members ages 18 and over are encouraged to attend our Annual Meeting to learn about the financial status of the organization and plans for its future.  This meeting also allows members to ask questions and vote for nominated board members.  We sing a few songs and a light supper is served after the meeting.  4th Sunday of September - DAC members are encouraged to attend since a quorum is required.   
Cheese Sale   
Each year, the DAC offers its members the opportunity to order special cheeses in preparation for the Christmas season. Authenic Danish Havarti cheese and other delicacies such as agurk (pickles) and leverpastej (liver pate).  Orders are usually placed by mid-October.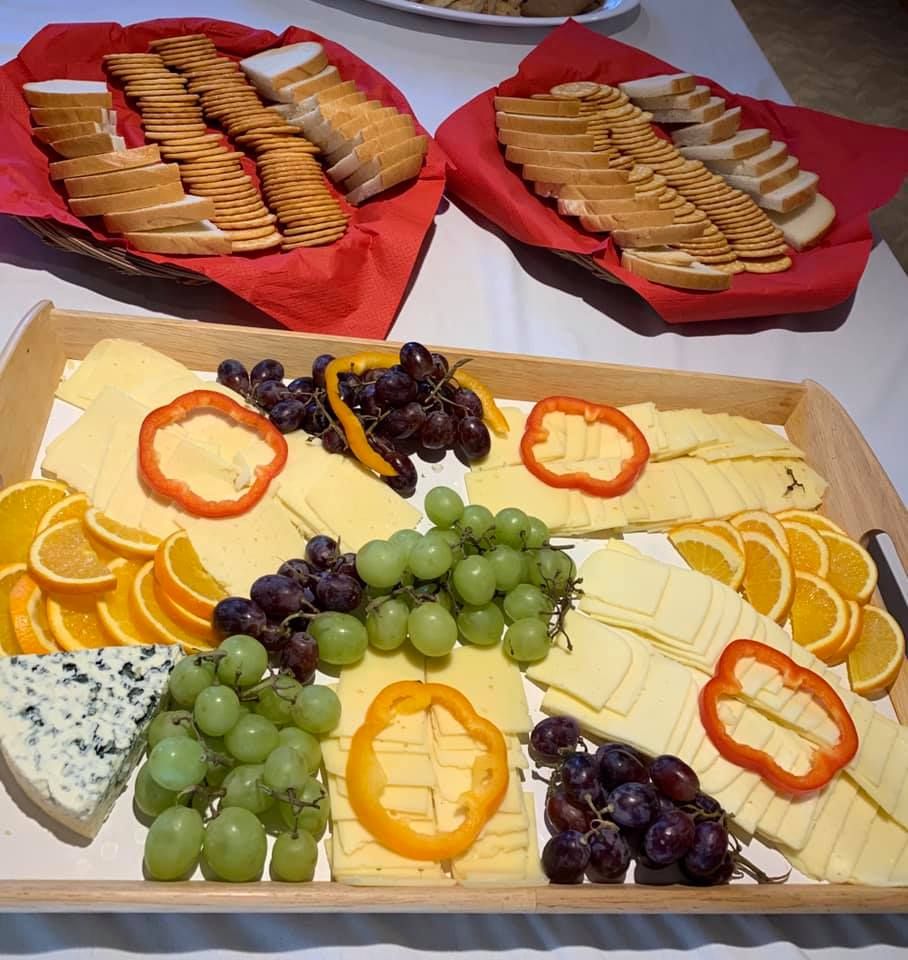 Children's Christmas Party    
On the second or third Sunday in December, the DAC hosts a celebration of Christmas just for the kids! This festive event includes children's crafts, a Christmas story, dancing around the tree, a light meal and a visit from Santa! If you wish, you can bring a small gift addressed to your child for Santa's bag. Reservations are not required. Come and enjoy, with your children or grandchildren, an old-fashioned Christmas celebration at the Danish American Center!
Christmas Carol Sang Aften
Annual event on the 1st Sunday of December. A Christmas songfest with many popular Danish Christmas carols led at the piano by the popular Rita Juhl, DAC member. Danes love to sing.  This has become a beloved event for many DAC members and guests.  
Julefest
Julefest is the Christmas meal of traditional Danish Christmas food usually held on alternating years.  This cozy and festive gathering starts with a social hour and appetizers in the Atrium, followed by a traditional Danish Christmas dinner.  Our waiter served dinner includes a three-course service starting with a fish plate, followed by the traditional roast pork with crackling and a dessert course of ris la mande (rice pudding) all chef -prepared. The evening ends with singing and dancing around the Christmas tree! Reservations are required. 
Julefrokost
This Christmas lunch with a scrumptious spread of Danish favorites takes place on alternating years.  Bring your appetite to this festive event that serves all the Danish classics: frikadeller, pork roast, herring, rice pudding, cookies and much more. The Julefrokost is a buffet-style gathering that includes all the delicious holiday favorites with singing of Christmas songs throughout the meal. When Danes gather around the table, they like to take their time. Be prepared to eat, drink, sing and be merry all afternoon!  Reservations are required. 
Fastelavn    
Fastelavn, the age-old Danish version of Carnival is celebrated every year prior to Lent. This is one of the most popular traditions for kids, as they get to dress up and eat lots of candy! They also get to beat a barrel full of candy until it bursts, with the kid knocking it open getting crowned as Cat King or Queen for the day. The children also make Fastelanvnsris, decorated branches, and enjoy delicious Fastelavnsboller which is a special Danish pastry made for the event. 
Public Events
 Æbleskive Breakfasts - A Danish breakfast of æbleskive (pancake balls), an egg dish, sausage, fruit, juice and coffee. The menu and date changes slightly for the Valentine's and Mother's Day brunches. This popular event is open to the public and occurs the 3rd Sunday of each month with the exception of the summer months. If you've never had æbleskiver, you're in for a treat!  These hot and fluffy delicacies are served with powdered sugar and strawberry jam.  They are the highlight of the breakfast.   Hours are 9:30 am-12:30 pm. Cost is $10 for adults and $5 for ages 5-12.  Children under 5 are free. Credit cards, cash and checks are accepted. No reservations required. These are usually held monthly, Sept-November; January-May, most often on the 3rd Sunday.    
Singalong with Dan Chouinard   
Dan Chouinard's monthly singalong is a very fun time!  Come and experience the joy of singing along with an enthusiastic group of people.  Warm up your voice and join us in singing old, new, classic and pop songs that are reflective of the month. Don't worry if you don't know the lyrics, they're project on the wall so all can sing along. Bring your own idea for a song and see if Dan knows it. This event is free and open to all, with a free will donation.  We hope to see (and hear) you there!  Dan's singalongs usually occur on the first Monday of every month.
Festival of Nations  --  Festival of Nations  --  The Danish American Center has participated in the Festival of Nations for decades. This longstanding event allows the DAC to share its culture with the public by way of food and history. Stop by the cafe for æbleskiver and pastries. Then learn new information about Denmark at our cultural booth. Nearly every country on earth participates in this delicious and educational event. The festival is held in St Paul, usually at the beginning of May.  
Danish Day   
Since 1959, members of the DAC and their guests have gathered to celebrate all things Danish on the first Sunday of June. . Danish Day begins with a morning singalong, followed by lunch, which consists of a variety of authentic open-faced sandwiches.  There are craft booths, a Viking reenactment, a bakery, hotdogs and live entertainment. Danish Day is also the time to honor "Danes of the Year." It's a great opportunity to visit with friends and celebrate Danish culture.  This event is open to all with a modest admission fee.  Food is extra.  
Doors Open Minneapolis     
The City of Minneapolis initiated this event in 2019 as a way to share the architecture, the history, and the charm of the city with the public. The DAC was invited to participate and were overjoyed by the interest in our space.  Many came saying they have driven by the building along the parkway and wondered what this could be about.  We gave tours, answered questions, and gave away samples of æbleskiver.  We hope to continue participating into the future.
Christmas Craft Sale    
Come join us on the third Sunday of November for our Annual Art Fair in the Atrium, where member artists will show and sell their wares.  Browse and purchase those early gifts for the holidays.  We will have cards, woodwork, paintings, jewelry and more all created by our members.  This event is open to the public.