Rugbrødslagkage (Rye Bread Layer Cake)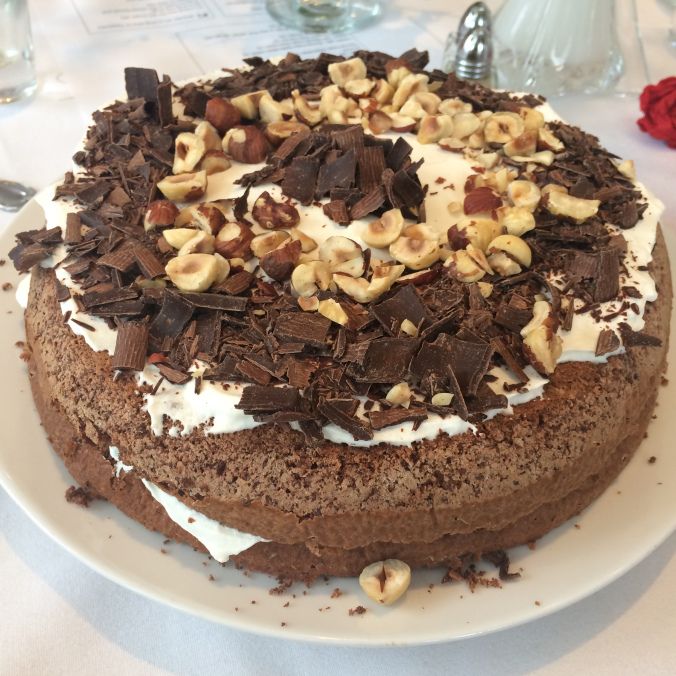 Posted:
Mar 7th, 2016
3:00 am
There was a new cake at our annual Akvavit Tasting event this year, but by no means is it a new cake. In a nod to event organizer Steen Moeller's home region of Denmark, event chef Gry (Dawn) Terrell chose a cake from the tradition of the "sønderjysk kaffebord" that dates back to the 1750s to cap off our meal. Literally translated, "sønderjysk kaffebord" means "Southern Jutland Coffee Table," but don't let the name fool you. Coffee is essential, but it's all about the cake – seven types of soft cake and seven types of hard cake (aka cookies or biscuits) to be exact.
Bread in cake?! Falling in the tradition of the 'soft cakes,' our rugbrødslagkage does indeed use traditional danish rye bread as a base, but a hint of cocoa and the requisite baking alchemy result in a light layer cake base. Topped with pillows of whipped cream and finished with chopped chocolate and hazelnuts, it's a delicious dessert whether it's paired with 13 other cakes or not.
Rugbrødslagkage (Rye Bread Layer Cake)
adapted from a recipe by Camilla Biesbjerg, Camilla Zarah Lawes, Louisa Lorang
Crust / Layer Ingredients:
6 eggs
1/3 lb. cane sugar
1/2 lb rye bread (no kernels, no caraway)
3 tbsp cocoa powder (unsweetened)
1 tbsp potato flour
2 tsp baking powder
2 oz. hazelnuts
Butter/oil for greasing the pan
Filling Ingredients:
2 cups of heavy cream
2 oz. chocolate
2 oz. hazelnuts
Directions:
Turn on the oven at 360°F. Cover the bottom of a spring form pan (D: 8-9 inches) with baking paper, strap on the sides and grease them
Separate the eggs and whisk yolks and sugar white and airy with an electric mixer.
Add finely grated rye bread (see notes), cocoa powder, potato flour, baking powder and finely chopped hazelnuts. Mix thoroughly.
Beat the egg whites firm and fold them gently into the dough little by little.
Pour the dough into the spring form and bake the cake for ca. 45 min at 360°F.
Let the cake cool off and split it horizontally into two layers (use a long, serrated knife).
Whip the cream to a soft foam. Chop chocolate and hazelnuts coarsely.
Use half of the whipped cream for filling between the two layers and spread the rest on the top of the cake. Decorate with the chopped chocolate and hazelnuts and serve promptly.
Notes:
Bread should preferably be stale and dry. If it's too fresh it will clump.
Alternatively, the bread can be chopped very finely in a food processor
Thanks to Gry for passing her recipe along. If you tackle this interesting recipe, let us know how it goes!